MARSEILLE-PROVENCE
Make yourself at home !
Marseille-Provence 2013, European Capital of Culture, will be a meeting point for culture, politics and the economy. Here, where we like to show our differences, stage our disagreements and glorify our contradictions, being the European Capital of Culture is a revolution that we will share with you. We have mobilised regional stakeholders around a cultural project that will unfold all year long, transforming our mosaic into a coherent picture. As you can imagine, this was no easy task. Uniting the Roman ruins of Arles, the medieval buildings of Salon-de-Provence, the industrial zones of Istres and Martigues, the cultural centre of Aix-en-Provence, the clay sector of Aubagne and the Greek heritage of Marseille was a real challenge. However, this is the miracle that is Marseille-Provence 2013 – a unique journey through our history, reality, desires and projects.

Exchange and cultural dialogue in the Mediterranean Basin
Exchange is at the heart of Marseille-Provence cultural life; it enables us to be at the forefront of the renewal of arts which speak to us all: circus, street arts, major events based around modern music, digital arts, dance, urban poetry. This vivacity is maintained by a policy of welcoming and establishing artists, creators, and companies which enter new territories and take part in artistic invention and cultural action. The French Foreign Ministry contributes to these exchanges, through the active participation of the Instituts français established in the countries around the Mediterranean, which help to attract artists and set up multidisciplinary projects.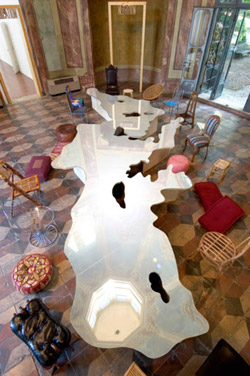 2013 marks the creation of a platform for exchanges and creations between cultures from the two shores, open to European and Mediterranean artists from all backgrounds. These exchanges are present throughout the program and form its common thread. They represent the material for the story of 2013: "Le partage de midis" (Sharing the South).
In order to sustainably open up the territory – which was already rich in festivals and cultural activities – to national and international artistic creation, it was decided to invite artists as of 2008. Among the programmes put in place, Euro-Mediterranean Ateliers, a central project of the European Capital of Culture supported by the Ministry of Foreign
via Presentation • Marseille-Provence 2013 • Capitale Européenne de la Culture 2013.
Related articles